Novuss – Sport For Everyone!
In September 2019 our project was selected for the European Union co-financing for the implementation of Novuss development.
The main objectives of the project are:
To develop and to strengthen the network of the involved organisations with the aim of promoting Novuss as professional and national sports, as well as the sports for everyone and recreational sports with the help of international events, training and sharing of information, documentation, experience and examples of good practice;
To promote and to develop Novuss as inclusive sports/game for disadvantaged persons (people with disabilities, economic difficulties, cultural differences, etc.);
To develop and to implement ideas, methods and guidelines for training modules, for organization of events (e.g., tournaments) and further promotion in as many languages as possible;
To develop a training plan/sessions for coaches and referees and to implement them in order to strengthen professional development of Novuss sports;
To distribute and to use information and knowledge through innovative and cost-effective methods and platforms.
The involved organizations represent such European Union countries as Poland and Germany, where Novuss has only developed over the last few years, and they are aware of the challenges of introducing new and little-known sports. Partner organizations from Latvia and Estonia are involved as the most experienced partners with a very long history of Novuss and with experience in training methodologies, guidelines, instructions, and organization of tournaments. This combination of the involved organizations will enable us to gain a different view on the ideas and objectives to be implemented.
Novuss Sport ohne Barrieren e.V., Germany
Latvijas Novusa federācija, Latvia
Peningi Koroonamaenguklubi, Estonia
Stowarzyszenie Polska, Poland
During the project implementation it is planned to involve more and more organizations, which are interested in active participation in the implementation of the project objectives and promoting Novuss.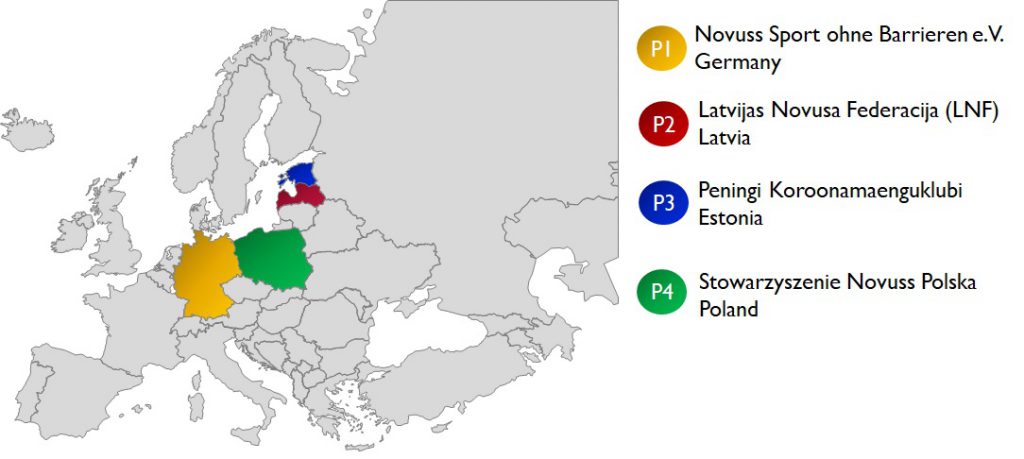 In many countries of the European Union, Novuss is still little-known. There is currently no international platform, where you can acquire more information about Novuss sports and the existing organizations. This will be a unique opportunity to present this project and Novuss to other sports organizations in the European Union in order to develop further partnerships.
It is therefore planned to distribute the results through the Erasmus+ project results platform, to create a new website (e.g. www.novuss-sport.org) and mobile application that will be maintained by the involved organizations after the project is completed. The project website is intended as a platform both within and outside the project to facilitate long-term information exchange.
In order to reach the largest possible audience, the most important materials and project results will be translated into as many languages as possible. An exchange of ideas with other Erasmus+ programme projects is also planned.
The Erasmus+ project results platform features many inspiring sports projects from across the European Union! Check them out here: